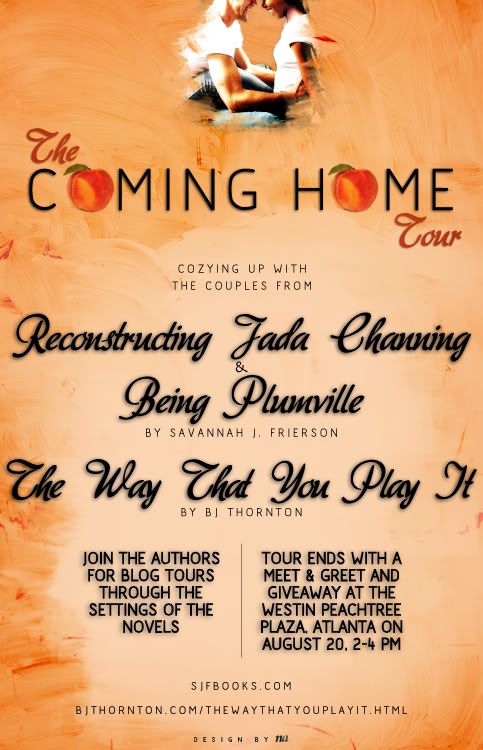 Hello, everyone! Welcome to the "Blog Countdown" to
BJ'
s and my
Coming Home
Tour
! The title comes from the title of
Reconstructing Jada Channing's
sequel
Coming Home
, and it features everyone's favorite preschooler (or, hell, just mine) Joshua Channing McKensie and his lady love. I wrote that story the same way I wrote
Being Plumville
--as a
National Novel Writing Month
project, and I enjoyed revisiting my very first original couple ever--Jada and Aaron.
I can't call this trip to Atlanta a "full-circle" trip, because that's not what it is. Rather, it's a coming home to a place that, while isn't my hometown, is a literary "headquarters" for me and my characters. I felt, after over six years of knowing and loving the characters of these two stories in particular, it was time to take a much more intimate tour of their haunts and homes. And I have awesome partners with which to do this--
BJ Thornton
and you!
My relationship with BJ...I don't exactly remember how it started other than a mutual stanning of each other's work. I'm
beyond
excited for her new release,
The Way That You Play It
, and I hope you all check it out. Trent and Caroline are a phenomenal couple, and that's all I'mma say so you all have to go out and read it! Don't believe me?
Check out the interview
BJ did with the couple!
If you want an opportunity to maybe even interview
us
in person, make sure you come down to Atlanta on August 20th, 2011, where we'll be having a very low-key meet and greet in the Westin Peachtree Lobby from 2pm - 4pm, followed by dinner and a live performance at
Smith's Old Bar
starting at 6pm. Please bring your books if you want them signed, as we won't be selling any...but we'll be giving away copies! In order to be in the running for my giveaway, all you have to do is answer three questions correctly that pertain to either
Reconstructing Jada Channing
or
Being Plumville,
which I will post on my blog--and you don't have to attend the Meet and Greet to win (although it would be sweet if you could join us!). Questions will be up until the next Friday and answers only count if replied onto the blogpost--no e-mails please.

Good luck and thank you all for your support!